DERBAREYÊ TEMENDIRÊJTIRÎN KESÊ DUNYAYÊ ZARO AXA

Reklameke amerîkî (1928) derbareyê temendirêjtirîn kesê dunyayê – Zaro Axa 
Havîna sala 2001ê gava min geştekê li Amerîka'yê kir, min serdana Dr Vera Beaudin Saîdpour'î kir. Li heman sala 1987'ê ku li Stockholm'ê yekem çapxane, weşanxane û pirtûkfiroşiya kurdî SARA hat damezirandin, Dr Vera jî heman salî li Brooklyn'ê, li New York'ê pirtûkxane û muzaxaneyeke kurdî ava kiribû. Dr. Vera, li ber deriyê Pirtûkxaneya xwe, bi rûgeşî û dilxweşî pêşewaziya min û hevjîna min kir. Li destê wê kovara Kurdish Times a ku ew bi xwe derdixist hebû: Hejimar 1 & 2 1986 Diyar bû ku Dr Vera vê kovarê ji bo nîşanî min bide ji arşîvê derhênabû ew roj. Piştî lihevpirsînê bi îngilîzî gote min: 'Do you know who Zaro Aga is?' Anku 'ma tu dizanî ku Zaro Axa kî ye?' Min gote wê 'na, ev e cara yekê ye ku ez vî navî dibihêm'. Gote min: 'Rast e, hûn kurd qet xwedîtî li çand û dîroka xwe nakin.' û wê kovara navbirî ya li destê xwe, Kurdish Times dirêjî min kir. Li ser bergê kovarê, wêneyê Zaro Axayî hebû. Gava min li rûpelên kovarê temaşe dikir, wê dîsa gote min ku 'Zaro Axa kurdê herî temendirêjtirîn ê dunyayê ye'.
Min ew kovar hanî Stockholm'ê û nîşanê her nivîskar û lêkolînerê kurdan da ku gava ew dihatin serdana Kitêbxaneya SARA'yê. Berî Dr Vera kes ji me kurdan çîroka Zaro Axayî ne bihîstibû. Paşê lêkolînerê kurd ê hêja mamoste Rohat Alakom lêkolîneke berfireh li ser Zaro Axayî amade kir û wek gotar û pirtûk weşand û berdestê xwendevanên kurd kir.
Ev reklama li jorê ku li rojnemeyeke New York'ê belav bûye, (nuha cara yekê belav dibe) ji hêla fîrmayeke firçeya dinanan; MORGANITE BRUSH CO INC hatiye belavkirin û tê de pesnê berhemên firçeyên vê fîrmayê tê dayin. Me pêşî bîr nebir ku ev reklam jî li ser Zaro Axayî ye. Lê duhî rojnamevaneka îtalî hatibû serdana SARA'yê û gava çavê wê bi vê reklamê ket, ji min pirsî 'ma ev çi ye? Ma ev derbareyê kurdan e yan na?' Min gote wê 'herê derbareyê kurdan e, lê me hîna baş tênegehîştiye ku ew behsa çi dike.' Paşê du amerîkî îroj hatin serdana min û wan navê vê fîrmayê yekser nas kir. Gava ku jî wan nivîsa vê reklamê xwand, pê re kirin ken. Min gote wan 'ev behsa me kurdan dike, lê nizanim bi qencî yan bi xirabî!?' Wan bersivand û got 'bi rastî jî tiştekî başlkêş e, ev behsa ew kurdê herî temendirêj ê dunyayê dike, ku te carekê behsa wî bo me kiribû'. Li ser vê yekê min biryar da ku ez vê êvarê behsa naveroka vê reklama ji sala 1928an ku li bajarê New York'ê li Amerîka'yê belav bûye, bo we xwendevanên hêja bikim. Naverok wisa ye:
"KHIYAR The giant Kurd is the greatest burden bearers. Some carry loads as high as 700 lbs. The sightseer asking 'Upon what food does he feed to get such strength?' expects the answer to be 'Raw Meat.' But the real answer is Khiyar – meaning raw cucumbers… more than three pounds daily is his summer ration. Proving again that the big point in anything is not what you put into it – but what you get of it. That 's why we don't talk about the ingredients of Morganite brushes. What does it matter whether they be curd, or carbon, or cucumbers as long as they'll carry any loads and reduce your annual brush cost."

Kurdiya wê: " XIYAR Kurdê hût û bi hêztirîn barkêşê baran e. Hin hût hene ku radihijin 700 kîloyan. Yên vê dibihîsin vê pirsê ji xwe dikin 'Gelo ev hût çi dixwe ku dibe xwedî vê hêza ewqas pir?' û wisa bawer dikin ku bersiv xwarina 'goştê xav' e. Lê bersiva rasteqîn xiyar e.. Anku cucumber.. rojê 3 kîlo xiyar îstîqaqa vî hûtî ye. Li vir bi vî awayî dîsan peyitî ku tiştê girîng ne ew e ku mirov jê pir bixwe, lê ya grîng ew ku mirov çi dixwe. Loma em têyesteyê (naveroka) firçeyên xwe yên Morganite brushes aşkere nakin. Heger ku ev firçe bikaribin bikevin binê her barî û lêçûna we ya salane ya li firçeyan kêm bikin, hingê heger têde xilt hebe, yan karbon, yan jî xiyar, ev qet ne grîng e". 
Bi gotineke din dixwazin bibêjin ku firçeyên me wek vî hûtê ku jê re dibêjin Zaro Axa pir zexm û temendirêj in û zû bi zû narizin. 
Stockholm, 25.04.2018
Goran Candan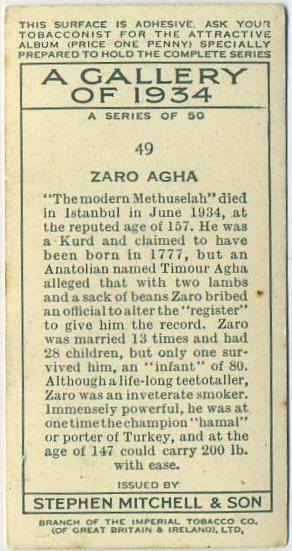 Ev wêneya Zaro Axa jî ji bo reklameka cigareyê ji hêla fîrmaya (Branch of Imperial Tobacco Co hatiye bi karhanîn..
Li vê reklama rojnameyî ya fîrmaya cigarê ya bi navê STEPHEN MITCHELL & SON a amerîkî ku li wan salên ku Zaro Axa li Amerîka'yê bûye, weşiyaye, wisa hatiye nivîsîn: Metûselahê hevdem, li temenê xwe yê 157 salan, li meha Hezîranê sala 1934an li Stanbolê ji jiyanê koç kir. Ew kurd bû û dibêjin sala 1777 hatiye dunyayê. (…) Zaro 13 caran jin hanî û bû xwedî 28 zarokan. Ji 28 zarokên wî tenê qîza wî ya 80 salî piştî mirina wî jiya. Ew li temenê xwe qet devê xwe li alkoholê nedaye û cigarekêşekî yeman bû. Yekê pir laşxemm bû û carekê bû şampiyonê barkêşên/koberên 'hemalên' yan dergevanên Tirkiyê û li temenê xwe yê 147 bi hêsanî 200 kîlo hildigirt.. 
Metûselah: Kalê Peyamber Nûh e ku li Încîlê hatiye nivîsîn ku ew 969 sal jiyaye.
____________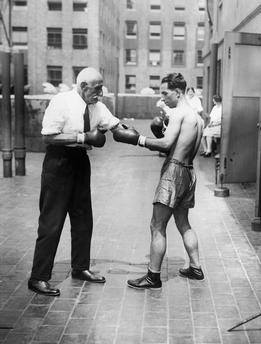 "Photo taken when US prohibitionist club invited Zaro Agha for to make propagandas tour in USA when he visited New York at 156 years old,
New York 30 7 1930"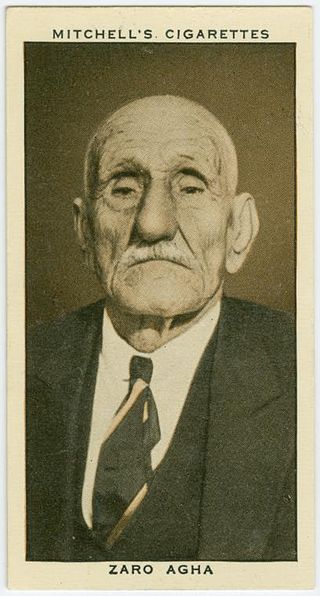 Ev jî reklameke fîrmaya cigarê ya amerîkî ya bi navê MITCHELL'S CİGARETTES e
ku wêneya mirovê herî temendirêj ê dunyayê Zaro Axa li ser e.